This is what I remember from the ad I read 24 hours after I had to lay my Golden to rest.  My goodness, how our lives have changed with our Baëlie in our home!  The love that comes from this gentle soul is nothing short of amazing! .... I am sooo glad I saw your ad with the magical combo of both my favorite breeds.....  I LOVE MY GOLDEN MOUNTAIN DOG!!
We are so grateful to have gotten our dog Olive from you. She is such a sweetheart!  She is the perfect blend of calm and playfulness and absolutely loves everyone. She has a gentle, loving temperament. She's very smart and was very easy to train. One of her favourite activities has been nose work and she also loves to swim.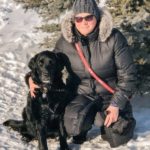 Jon and Sharla were great to work with! Our decision was made quickly when we arrived on their property and saw so many healthy and happy pups running around with smiles on their faces. Sharla had lots of information to offer and so much love for her pups. Our little River is healthy, beautiful and a well-mannered dog. We are very pleased with our puppy and would recommend their expertise in breeding to anyone."